Fleet Management Solutions​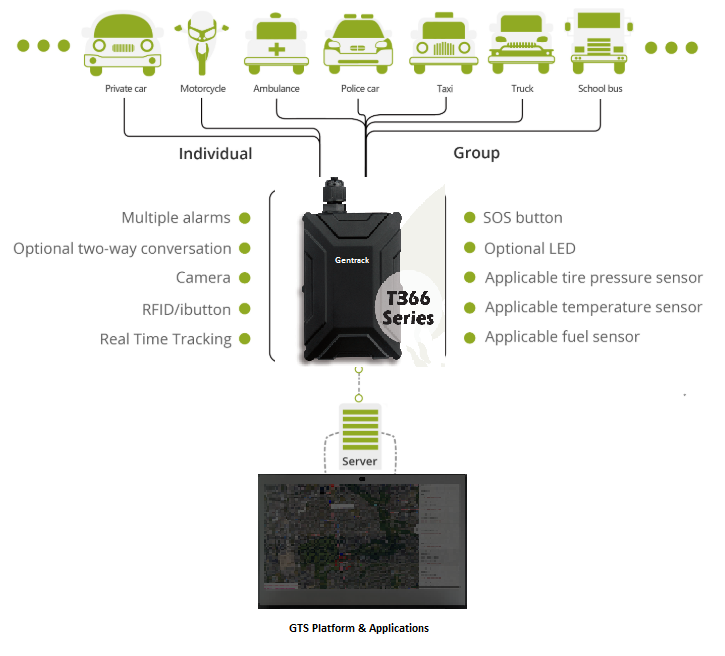 Fleet operations are under constant pressure to not only maintain a safe working environment for staff and protecting valuable assets, but also to run efficiently and provide a profitable return to the fleet companies contracted to run the vehicle service for the specific industry.
How can fleet managers achieve all the objectives of a professionally-run fleet? Like any job, the answer lies in using Genuine Tracking Solutions fleet management system.
High precision in fuel consumption and fuel usage monitoring
Easy and safe installation
with no drilling
Fuel theft report,
fuel leak monitoring
Monitor via web page or app
Genuine Tracking Solutions inc vehicle trackers are compatible with major fuel level sensors in the industry, including the resistive fuel level sensor, CLS sensor, LLS sensor, and ultrasonic fuel level sensor.
After a tracker is connected to the fuel monitoring system, besides basic location information, customers can also get fuel consumption, fuel level, fuel leak, fuel theft information, etc.
More importantly, managers can get fuel reports from GTS STS tracking platform, which helps fleet companies understand where improvements and adjustments are needed.
Pressure Monitoring System
Compatible with all
major models of vehicles
Configurable, visible,
and audible alerts
Actual tire pressure &
temperature readings
Monitor via
web page or app
Pressure play's an important role in every vehicle out on the road. Weather carring liquid, gas or other goods, having a TPMS installed may ensure that you are always driving with a safe set of tires on the road.
It is a great option for long distance travel that can be installed into all major vehicle's models including trucks, private cars, buses, freight trailers, etc.
Automotive CAN Bus System
Compatible with various vehicle models
Driver behaviour monitoring for fleet management
Monitor via web page or app
Real and precise vehicle related technical information
As fuel prices are continuously rising and vehicle operational expenses are increasing, monitoring of fuel consumption and conditions of vehicles are becoming more important. 
After GTS Gentrack vehicle trackers connect to CAN adapters, besides basic location information, customers can also get high resolution vehicle distance, total fuel used, total engine hours, wheel-based speed, clutch switch, brake switch, accelerator pedal position and engine coolant temperature.
Passenger Counting System
High Precision
Passenger Counter
Infrared Night
Vision Cameras
Various applications like buses, tourist attractions, shopping malls, etc
Genuine Tracking Solutions inc independently develops varieties of domestic technology, a passenger counting system to count the number of passengers that get on and get off buses is one of them. Under standard environments, the system can reach a high rate of accuracy.
More importantly, managers can get counting reports from our GTS tracking platforms. This is an effective way to determine passenger load for the purpose of adjusting driving routes and operating time to prevent overloading of the vehicles, and thus reduce operating costs.
Mobileye Fleet Safety Solution
The core component of Mobileye Series System consists of a windscreen-mounted vision sensor for image processing and Eyes-Watch display for visual warnings. It can identify potentially dangerous situations, and provide audio and visual alerts to assist the driver in preventing or mitigating collisions. After the system is connected to the tracker, real-time location data, trip details, driver behavior analysis, and driver scores will be provided.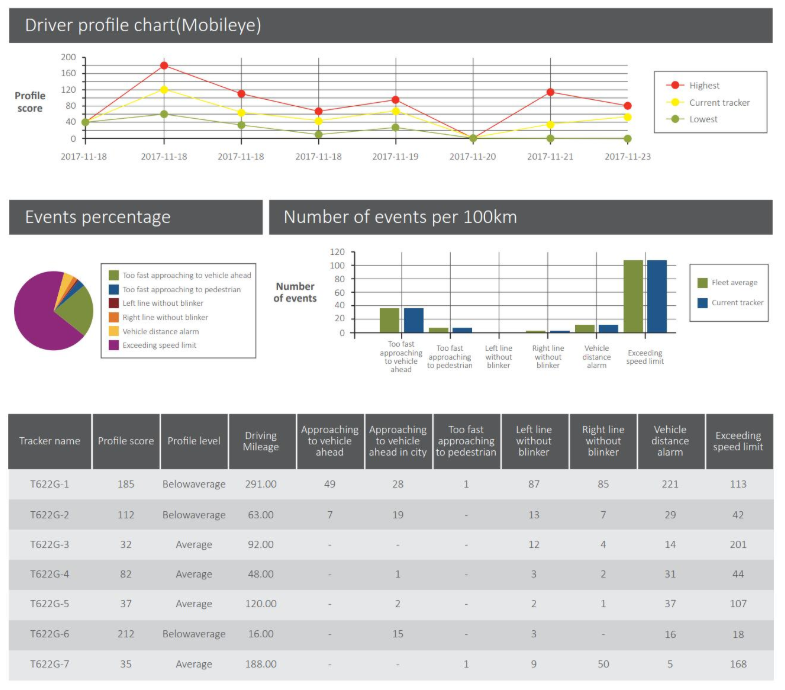 Driver Fatigue Monitoring System
Suit for all vehicles working anytime, anywhere
Audible, visible and configurable alerts
Monitor via web page or app
Genuine Tracking Solutions independently develops a driver fatigue monitoring solution to help prevent accidents caused by the driver getting drowsy. 
Using unique pupil identification technology to analyze the eye's fatigue condition and provide accurate early warning for real fatigue. More importantly, managers can get intuitive driver fatigue reports from GTS tracking platform. This is an effective way to determine if the driver is drowsy, and thus make sure of safety.
GTS Driving Statistics Reports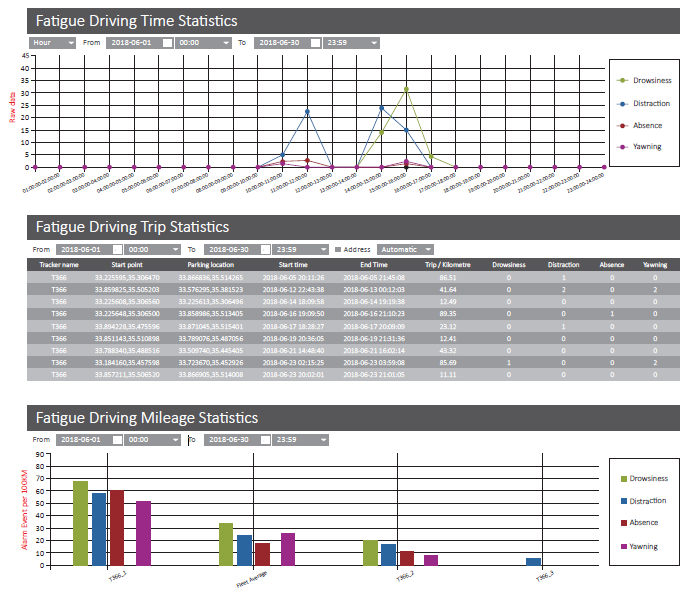 Track your Assets with Our Industry Leading Tracking Solutions